A leading provider of high quality precision machine products and manufacturing solutions
Machine Shop Services
High quality and high precision prototypes, short runs and production
Development:
Comprehensive development of your component criteria is our main goal, whether highly tolerant or highly productive or both, we provide our customers the level of quality they desire in any component. Our customers depend on our ability to manufacture all components within design the first time — meaning no more or less than what is required. Our approach is geared toward saving our customers money wherever possible and meeting specific and important lead times.
Technology:
Our experienced CNC staff provides local or remote programming, utilization and storage of your project data for periodic runs and/or updating.
We classify and catalog each one of our customer projects and components for re-run or revision. Our PDM (Project Data Manager) enables full documentation of component criteria and base material location avoiding costly reprogramming and setup.
Experienced operators and rapid prototyping capabilities allow for no-nonsense manufacturing with comprehensive development processes cutting lead times and superfluous operations.
Direct communications with our skilled CNC operators often saves time and costly print misinterpretations which can lead to costly redesigns and material waste.
Extended hour office and shop services are from 6:00 AM to 6:00 PM Monday through Friday, and office only hours are 8:00 AM to 12:00 PM Saturdays.
Capacity:
Multiple VMC production platforms for long runs (44 x 24 x 20 maximum travel)
Specialized VMC short runs (4 axis capacity)
Multiple turning centers for high and low capacity production runs (10" maximum swing)
Finishing: abrasive tumbling, glass bead
OSV'S finishing, anodizing, plating, priming, e-coat and painting
Sharpening:
Endmill sharpening
Contour tool sharpening
Form tools sharpening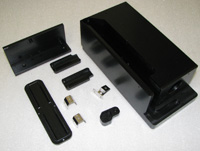 Customized Assemblies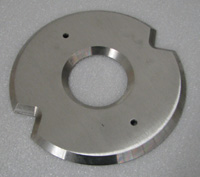 Customized Parts